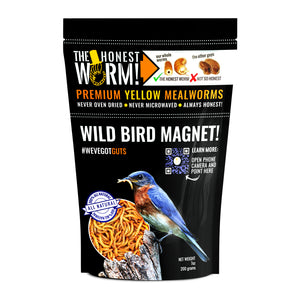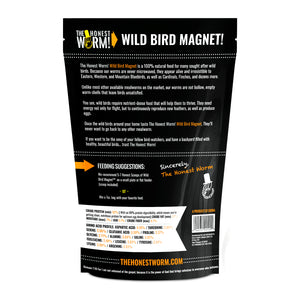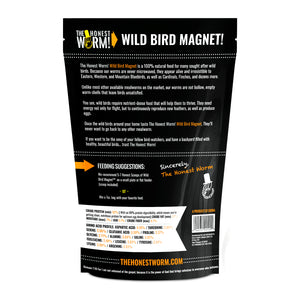 The Honest Worm! Wild Bird Magnet 7 oz Bag
The Honest Worm! Wild Bird Magnet is a 100% natural attractant and feed for many of the most sought after wild birds. Our worms have a unique component called the Living Sight Attractant, which makes them irresistible to Cardinals, Finches, Blue birds, and many other omnivorous and carnivorous birds. Unlike most other commercially available empty, dried mealworms, the Living Sight Attractant causes wild birds to believe these worms are the real thing... because they are!
Our··nutritious mealworms are scientifically formulated to satisfy the demanding needs of wild birds. You see, all wild birds need a wide variety of minerals and nutrients to produce eggs, and also to provide them with the energy they need for flight. Wild birds instinctively seek protein-packed worms that look real, and alive. 
Once they get a taste of our premium mealworms they'll never want to leave... instead of being left hungry and unfulfilled with the crusty, brown mealworms the "other guys" sell. If you want to be the envy of other fellow bird-watchers, and have a backyard filled with beautiful, healthy birds, trust The Honest Worm!